Videos

A Grand Rounds on idiopathic pulmonary fibrosis is coming to your hospital! What do you need to know before you go? Watch this short video to refresh your knowledge of the basics of IPF.
Know Before You Go: IPF Grand Rounds Pre-learning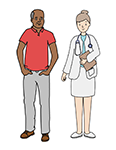 Dr. A. Whitney Brown gives an overview of IPF in the broader category of interstitial lung diseases. From differential diagnosis to the multidisciplinary team discussion, Dr. Brown presents a 5-minute overview to prepare you for your live meeting.
Play