COPD
An Update on Fixed-Dose LAMA/LABA Inhalers in COPD
Launched: August 31, 2016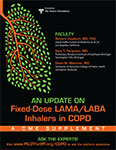 Long-acting bronchodilators are the cornerstone of maintenance therapy for patients with chronic obstructive pulmonary disease (COPD). A variety of long-acting muscarinic antagonists (LAMA) and long-acting β2-agonists (LABAs) are available for the management of COPD. An increasing number of fixed-dose LAMA/LABA combinations have been developed and approved; these combinations have the potential to provide synergistic effects through different mechanisms of action, maximize bronchodilation, and simplify COPD treatment regimens. Authored by Richard Casaburi, MD, Gary Ferguson, MD, and David Mannino, MD, this supplement provides a review of the safety and efficacy of current and emerging inhaled fixed-dose LAMA/LABA combinations for patients with COPD.
---
Do you Have a Question for a COPD Expert?
| | | |
| --- | --- | --- |
| | | FAQ is an opportunity for you to have your COPD clinical questions addressed by expert faculty. Your questions will be answered by email within 2 weeks. |
---
For GOLD C and D patients, when would you preferentially prescribe ICS + LABA or LAMA vs a LAMA/LABA FDC (and vice versa)?
| | | |
| --- | --- | --- |
| | | The other option, of course, is triple therapy (ICS, LABA, LAMA). It really depends on a number of factors- including severity, symptoms, prior exacerbations, response to therapy, risk of pneumonia, etc. For me- factors that make me think more of including an ICS are asthmatic-like features (wheezing, allergic history, symptom variability) and frequent exacerbations without pneumonia. Features that make me think less of an ICS are a history of pneumonia, diabetes, or ICS-related side effects (like vocal cord issues) |
---
If you consider the inhalation devices for the LAMA/LABA FDCs, can you describe the features of each that factor into individualized treatment decisions (dry powder inhaler [DPI], soft mist inhaler [SMI], and pressurized metered dose inhaler [pMDI])?
| | | |
| --- | --- | --- |
| | | Patient physical and mental issues can impact the use of inhaled medications, with cognitive impairment (dementia, stroke, etc.) and physical conditions, (arthritis, neuromuscular diseases, blindness, etc) potentially limiting effective medication delivery. Each delivery system has its own set of issues. Problems to strongly consider include: 1) patient ability to assemble the inhalational device correctly (loading the canister and priming the device (pMDI, SMI, nebulizer); 2) the number and complexity of steps required to use an inhalational product (ability to open, load and puncture individual medication capsules for unit dose DPIs); 3) effective patient hand-mouth coordination (ability to orient the inhaler properly, actuate the inhaler and time/coordinate inhalation with actuation - pMDIs); and 4) patient ability to generate adequate inspiratory flows (intensity of inspiratory effort sufficient to actively inhale the medication into the lung - DPIs). Other device requirements such as 1) duration of dosing (nebulizer); 2) availability of appropriate power source (nebulizer); 3) size and portability (nebulizer); 4) need to shake the device prior to each dosing (pMDI); 5) drug storage (refrigeration with certain nebulized medications); and 6) need for device cleaning (nebulizer, pMDI) must also be considered. Variations within a given delivery system may also be important, including: 1) frequency of dosing (qd, bid, etc); 2) availability of multi-dose units (pMDI, DPI, SMI); and 3) the variety of medication options and combinations available for a specific delivery system. |
---
Post hoc analyses with tiotropium/olodaterol and aclidinium/formoterol evaluated the effects of these treatments on composite endpoints (clinically significant events and clinically important deterioration, respectively).
Are composite endpoints similar to these being used as primary or secondary endpoints in clinical trials with inhaled long-acting bronchodilators for patients COPD?
| | | |
| --- | --- | --- |
| | | Composite endpoints provide a way to coalesce study outcomes in the hopes of achieving an endpoint that is meaningful and yet may allow reasonable study numbers (powering) when the frequency of key endpoints, such as mortality, may require prohibitive numbers of study subjects. Composite endpoints are commonplace in cardiovascular studies and have been used to justify and promote various treatments. Composite endpoints in COPD have not been used for clinical trials needed to register drug combination, the phase of study at which most LAMA/LABA FDCs are at this point of time. However, as later phase, post approval studies are being developed, composite endpoints may provide the information we need to move forward in COPD, providing outcomes that would be considered as disease modifying or particularly impactful on health care outcomes. |
---
Are there safety considerations with the use of LAMA/LABA FDCs in patients over the age of 65 or 70 years?
| | | |
| --- | --- | --- |
| | | It is important to recognize that all of this generation's long-acting inhaled bronchodilators are designed to cross into the systemic circulation poorly, so these drugs circulate at very low levels and systemic side effects are, therefore, uncommon. No alterations in dosing regimens are suggested for older patients. |
---
What are the key drug/drug interactions that prescribers should be aware of for each of the LAMA/LABA FDCs?
| | | |
| --- | --- | --- |
| | | The drug interactions of relevance are the same as those for the individual monotherapies. Worth discussing is the use of LABA containing regimens in conjunction with beta-blockers. While in the past combining beta-blocker and beta-agonist therapy was felt to be relatively contraindicated, this is no longer generally true. The current generation of LABAs, that have little systemic penetration, are felt to be safe to use in conjunction with cardioselective beta-blockers. |
---
Are there special considerations for using LAMA/LABA FDCs in patients with COPD and diabetes?
| | | |
| --- | --- | --- |
| | | Though these drugs are generally safe for use in diabetics, doses of the related beta2-agonist albuterol, when administered intravenously, have been reported to aggravate pre-existing diabetes mellitus and ketoacidosis. |
---
Are changes anticipated with the GOLD COPD guidelines? If yes, what aspects will be revised/updated or changed and when?
| | | |
| --- | --- | --- |
| | | We suspect there will be changes in the GOLD guidelines in the near future, although the specifics are not known. Some areas that are likely to change include the classification of disease severity and the algorithm for therapy at different levels of severity. |
---
Do you think that LAMA and LABA monotherapies still have a place in the management of COPD or will the various combinations (LABA + ICS, LAMA/LABA FDC, triples-when approved, etc) predominate in clinical practice?
| | | |
| --- | --- | --- |
| | | I believe monotherapies will continue to have a role, although perhaps in a diminished role as other combinations become available. Of course, in the US this will be heavily influenced by payers, insurance coverage, and the availability of generic options. |
---
With both once- and twice-daily dosing options available in LAMA/LABA FDC inhalers, can you describe which patients might benefit more from a twice-daily treatment option?
| | | |
| --- | --- | --- |
| | | Data are very limited on the benefit and differences between once- and twice-daily inhaler dosing. Both dosing intervals are superior to inhalers that require more frequent dosing (e.g. qid) in terms of the treatment efficacy and adherence. It has been postulated that inhaled medications requiring bid dosing with an evening dose may have a more positive impact on nighttime symptoms than with qd by providing greater nighttime and early morning symptom relief. However, this remains to be proven. In general, qPM dosing has not been shown to provide any added value for the nighttime or early morning symptoms compared to qAM dosing when using once daily medications. More information is required before firm recommendations can be made. |
---
How do the LAMA/LABA FDCs compare with respect to onset of action?
| | | |
| --- | --- | --- |
| | | All of the LABA/LAMA fixed-dose combinations have a rapid onset of action, without any major differentiation between them. |