COPD Education
Educational resources for physicians involved in the diagnosis and management of patients with Chronic Obstructive Pulmonary Disease (COPD).
Expert Interviews
These video-based roundtable discussions highlight key COPD updates provided at a May 2017 meeting on pulmonary disease. Expert faculty reflect on new information on COPD and discuss the impact it has for patients.
PLAY
---
To Use or Not Use ICS? The Shifting Paradigm in COPD Treatment

Review the latest information on the use of ICS in patients with COPD in these clinical scenarios as presented by Drs. Gary T. Ferguson, James F. Donohue, and Nicola A. Hanania at a recent meeting in Washington, DC.
---
Fixed Dose LAMA/LABA Inhalers in COPD: What the Trials Tell Us

---
An Update on Fixed-Dose LAMA/LABA Inhalers in COPD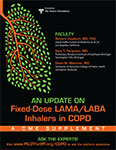 Long-acting bronchodilators are the cornerstone of maintenance therapy for patients with chronic obstructive pulmonary disease (COPD). A variety of long-acting muscarinic antagonists (LAMA) and long-acting β2-agonists (LABAs) are available for the management of COPD. An increasing number of fixed-dose LAMA/LABA combinations have been developed and approved; these combinations have the potential to provide synergistic effects through different mechanisms of action, maximize bronchodilation, and simplify COPD treatment regimens. Authored by Richard Casaburi, MD, Gary Ferguson, MD, and David Mannino, MD, this supplement provides a review of the safety and efficacy of current and emerging inhaled fixed-dose LAMA/LABA combinations for patients with COPD.
BEGIN PRIMER
---
Do you Have a Question for a COPD Expert?
| | | |
| --- | --- | --- |
| | | FAQ is an opportunity for you to have your COPD clinical questions addressed by expert faculty. Your questions will be answered by email within 2 weeks. |
---
COPD FAQs
Does the FLAME data put indacaterol/glycopyrrolate as a superior LABA/LAMA in the ex US scenario based on existing evidence to date?
---
Re the WISDOM trial post-hoc analyses -- Do you routinely use eosinophil counts prior to stepping off ICS/LABAs?
---
For GOLD A and B patients, when do you use LABAs first versus LAMAs first? Do you use lung volumes and spirometry, and if the patient is hyper-inflated, do you use a LAMA first?
---
Is there a biologic rationale for not using off-label inhaled steroids plus LABA/LAMA combination when stepping up?